News Flash: CERIMED takes a new orientation
The international and multidisciplinary community, which is at the origin of the concept of CERIMED, is more active than ever. The community is involved in a number of large-scale projects and coordinated activities, some of them directly funded by the European Commission. It has also established strong links with non-European institutions and medical centers in the USA, Japan, Korea, Singapore, Australia, Russia and the Ukraine.  Scientific strategy is regularly updated on the basis of evolution of medical demand and of the potential offered by the development of break-through technologies frequently presented at meetings, thematic workshops, and conferences organized by this community.
The construction of an infrastructure in Marseilles, which was indeed part of the initial CERIMED project is progressing well.  However, the necessary conditions to operate it as an open campus, foreseen in the original proposal, are not being met and are unlikely to be met in the short or medium term. On the other hand, medical imaging is a very dynamic field and a high degree of involvement from the community is obviously essential. A number of multi-disciplinary institutions similar to the CERIMED initiative have been established in Europe, the US and Asia thereby expanding the potential for international collaboration.
In such a rapidly evolving context, we consider that it is important to structure the medical imaging community in a similar way to that of the successful organization of particle physics and astrophysics previously. An important objective is to establish a common and effective strategy based on scientific and clinical objectives and to present them with one voice to the decision makers and funding agencies. Another objective is to organize a way to share expensive resources to be able to propose and implement ambitious international projects and to coordinate a distributed education and training program.  This would result in increased visibility for the community allowing the transmission of a clear message with high impact to the various stakeholders, including government and academic institutions, funding agencies and industrial concerns.    
The underlying motivation of this initiative is not to compete with existing networks, scientific associations and foundations but to complement the collaborative efforts in a constructive manner.  The first step envisaged is to create an ERANET that will be termed CERIMED.NET between institutions and funding agencies that agree to support the structure of the medical imaging community.  Non-European members are of course also eligible to join such a network as long as they are from European-recognized associated countries (see http://www.cordis.europa.eu/coordination/era-net.htm). The plan is to create a foundation attached to CERIMED.NET to help support financially those commonly-approved activities.

Robert Aymar, Former General Director of CERN, Geneva, Switzerland
Paul Lecoq, PhD, Senior Physicist, CERN, Geneva,Switzerland
Jose-Manuel Perez, PhD, Head of Department of Technology, CIEMAT, Madrid, Spain
John O. Prior, PhD MD, Head of Nuclear Medicine Lausanne University Hospital, Lausanne, Switzerland
Stefaan Tavernier, PhD, Full professor Vrije Universiteit Brussel Physics department, Brussels, Belgium
David Townsend, PhD Director, Singapore Clinical Imaging Research Centre, Centre for Translational Medicine, Singapore
Joao Varela, PhD, Director of TagusLIP - Centre for Molecular Imaging Instrumentation, LIP, Lisbon, Portugal
For more information and to express an interest in this proposal, please do not hesitate to contact us.
___________________________________________________________________________________
ENDOTOFPET-US funded by the European Commission for 4 years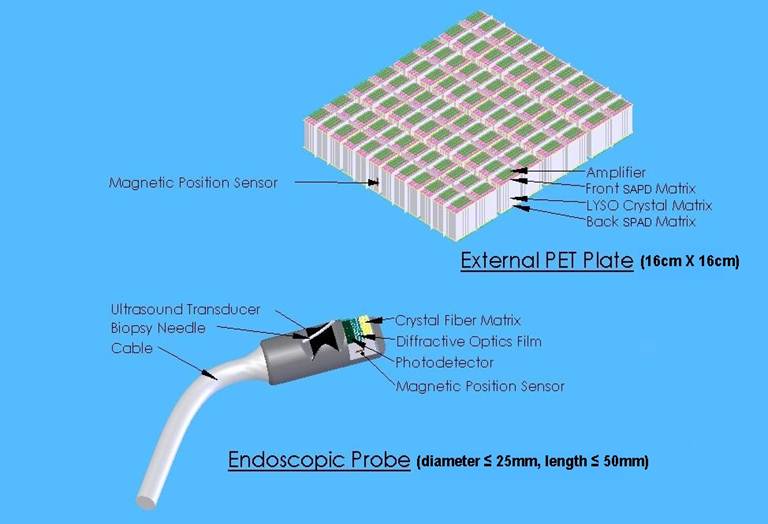 Conceptual design of the endoTOFPET-US Imaging device (not to scale).
___________________________________________________________________________________
© CERIMED 2012 | Contact webmaster